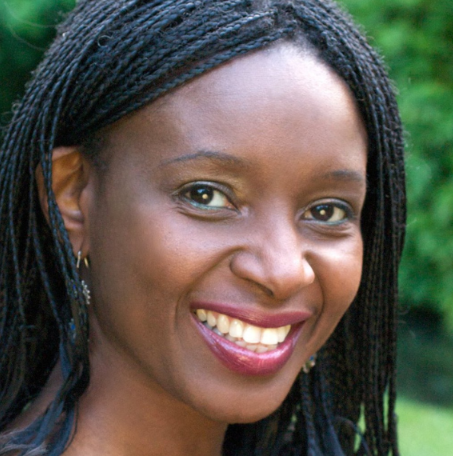 "There is always something new out of Africa."

Pliny The Elder, Natural History, V111, 17
Adeola Solanke is an award-winning playwright and screenwriter, and founder and director of Spora Stories. Her plays include her acclaimed debut, Pandora's Box, which won a Best New Play nomination in London's Off-West End Theatre Awards, and was shortlisted for the $100,000 Nigeria Prize for Literature, Africa's biggest literary award.
Ade was voted Best Playwright in the Nigerian Entertainment and Lifestyle Awards and awarded Best Play honours in the African Film Awards for the play. It toured to 17 UK venues with support from Arts Council England. Another play, The Court Must Have a Queen, commissioned by Historic Royal Palaces, was staged in the Great Hall at Hampton Court Palace, where Shakespeare's plays were performed. Her work has also been performed at the UK's Arcola, Almeida, Young Vic, Sheffield Crucible Theatres.
A double Fulbrighter, she's a 22/23 Fulbright Distinguished International Scholar at Emerson College in Boston and LA, and was formerly a Fulbright Fellow, Phi Beta Kappa International Scholar, and Association of American University Scholar at the University of Southern California (USC) School of Cinematic Arts in Los Angeles, where she gained an MFA in Film and Television (Screenwriting).
In LA, she was twice an Academy Nicholls Screenwriting Fellowship semi-finalist and a story analyst for New Line and Sundance. She also worked in the story department at Disney. She wrote the screenplay for the award-winning Nigerian film, Dazzling Mirage (2014). She's written for BBC Radio 4, The Guardian, The Times Literary Supplement, Art Monthly, The Voice, West Africa Magazine and others. A Hawthornden Fellow, she was also a founding Fellow of the Royal Literary Fund, and its first British Film Institute Writer in Residence. Ade has run playwriting programmes at the Royal Court, Soho and Arcola theatres in London, and taught scriptwriting at Goldsmiths, University of London and in Nigeria, Ghana and Zimbabwe. She was a judge for the South African Writers Guild Awards and the UK's Royal African Society Baobab film Award, as well as a member of the British Film Institute's African Odysseys Committee, programming a monthly series of African and African diaspora films at the National Film Theatre in London.
She holds a Post-Graduate Diploma in Creative Writing from Goldsmiths, as well as a BA Honours degree in English Literature from the University of Sheffield, winning its prestigious Distinguished Alumni Award in 2016. A former journalist, she has written for BBC Radio 4, The Guardian, The Times Literary Supplement, The Royal Television Society Journal, The Voice, West Africa and Art Monthly, amongst others.
She lectures in dramatic writing internationally.